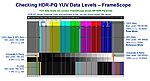 HDR-PQ YUV 16b Levels
checked by VQV tool


HDR-PQ RGB Data Range
checked by VQV tool



UHD SDR RGB 16b Levels:
checked by VQV tool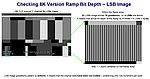 12b FR Y Ramp: 4 LSBs
checked by VQV tool
VQCB
Wonder Bars™
VideoQ Color Bars Test Patterns Suite

Video data analysis and fidelity verification tool
for the 8K / 4K / 2K, HDR / SDR environment
VideoQ WonderBars-VQCB Datasheet
VideoQ WonderBars-VQCB Training Presentation

Easy-to-use tool, instantly revealing your video device / system / workflow performance

VQCB tests can be used for visual estimation and/or instrumental and automated analysis

Applications: Production, post-production, transcoding, distribution and consumer video

BT.2111, BT.2100, BT.2020, BT.709, SMPTE 431 DCI-P3 compliant tests

Frame sizes: 8K UHD, 4K UHD, 2K HD

Dynamic range formats: HDR-PQ, HDR-HLG, and SDR

Variety of color spaces, frame rates and encoding formats


VQCB tests are useful when streaming in multiple formats or when converting between formats.

They provide for automated cloud-based QA/QC via the companion VQCBA software analyzer, generating machine-readable JSON reports. In-depth analysis is possible via the VQV tool.

With a VQCB test you can instantly check that the video circuit is active and audio is in sync.

The layout, data levels and appearance of the SDR variants of VQCB test pattern suite are similar to the HDR variants, which makes much easier the usage of the whole VQCB suite in modern mixed formats environments.

VQCB suite includes combinations of:



· 3 frame sizes: HD, 4K UHD, 8K UHD
· 3 dynamic range modes: HDR-PQ, HDR-HLG, SDR
· 4 color spaces: RGB FR, RGB NR, YUV NR BT.2020, YUV NR BT.709



VQCB suite includes 5 pre-packed sets of media files; each set aimed at specific field of application:



· VQCB8K: 8K UHD High-end Production and Post-production
· VQCB1: UHD and HD Production and Post-production
· VQCB2: UHD and HD Contribution and Distribution
· VQCB2HD: HD Transcoding and Distribution
· VQCB4: Video & DCI Post-production


For a given frame size each package includes 3 sub-sets of media files of 3 dynamic range formats: HDR-PQ, HDR-HLG and SDR.

For a given dynamic range format each sub-set includes 8 variants with different frame rates:
23.976, 24, 25, 29.97, 30, 50, 59.94 and 60 fps. VQCB4: 23.976 fps.

Each media file is produced by a lossless, variable bitrate encoder.
Set of 5 VQCB packages consists of 378 media files/folders.