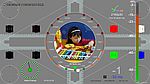 -15dBfs, AV Sync: -33ms
Measured with VQV tool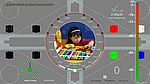 -3dBfs, AV Sync: 0ms
Measured with VQV tool
VQMPC
VideoQ Multi-Purpose Chart
Suite of Versatile Dynamic Test Patterns

Instant picture & sound quality control tool
for the 8K / 4K / 2K, HDR / SDR environment
Easy-to-use tool, instantly revealing your video device / system / workflow performance

VQMPC tests can be used for visual-aural estimation and/or instrumental analysis

Applications: Production, post-production, transcoding, distribution and consumer video

BT.2100, BT.2020, BT.709 compliant tests

Frame sizes: 8K UHD, 4K UHD, 2K HD

Dynamic range formats: HDR-PQ, HDR-HLG, and SDR

Variety of color spaces, frame rates and encoding formats

Other sizes/formats (AR, LB/PB, 1080i, sub-HD, NTSC/PAL, etc.) are available on request


VQMPC tests usage at Olympic Games proved that they are extremely useful for live sport coverage and other workflows requiring streaming in multiple formats or AV format conversions.

VQMPC tests provide for semi-automatic AV levels and AV sync measurement by VideoQ tools.
With a VQMPC test you can instantly check that the video circuit is active, workflow parameters are normal, and audio is in sync.

The leading OTT providers use VQMPC test to validate playback performance globally.

The layout, components and appearance of the SDR variants of VQMPC test pattern suite are similar to the HDR variants, which makes much easier the usage of the whole VQMPC suite in modern mixed formats environments.

VQMPC suite includes 9 combinations of:



3 frame sizes: HD, 4K UHD, 8K UHD
3 dynamic range modes: HDR-PQ, HDR-HLG, SDR
2 color spaces: YUV NR BT.2020 (UHD and HDR), YUV NR BT.709 (HD SDR)



VQMPC suite includes 4 pre-packed sets of media files; each set aimed at specific field of application:



VQMPC8K: 8K UHD High-end Production and Post-production
VQMPC1: UHD and HD Production and Post-production
VQMPC2: UHD and HD Contribution and Distribution
VQMPC2HD: HD Transcoding and Distribution


For a given frame size each package includes 3 sub-sets of media files of 3 dynamic range formats: HDR-PQ, HDR-HLG and SDR.

For a given dynamic range format each sub-set includes 8 variants with different frame rates:
23.976, 24, 25, 29.97, 30, 50, 59.94 and 60 fps.

Each media file is produced either by a lossless, variable bitrate encoder
or by a relatively high-bitrate, but lossy, encoder (order options).