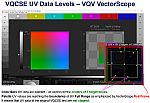 Color Bars UV Levels
checked by VQV tool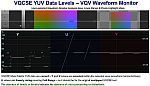 Main Palette YUV Levels
checked by VQV tool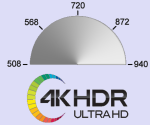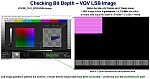 VQCSE LSBs Image
checked by VQV tool
VQCSE
VideoQ Color Space Explorer

Dynamic Test Patterns Suite

Picture quality control, calibration and verification tool
for the 8K / 4K / 2K, HDR / SDR environment
VideoQ VQCSE Training Presentation

Easy-to-use tool, instantly revealing your video device / system / workflow performance.

VQCSE tests can be used for visual estimation and/or instrumental analysis.

Applications:
Video workflows, displays, transcoders, and video players development and certification.

QCSE tests are useful when streaming in multiple formats or when converting between formats.

The layout, data levels and appearance of the SDR variants of VQCSE test pattern suite are similar to the HDR-PQ and HDR-HLG variants, which makes much easier the usage of the whole VQCSE suite in modern mixed formats environments.

VQCSE suite includes 48 combinations of:



1 frame size: 4K UHD, up- and down-converted versions available on request
2 color spaces: YUV and RGB
3 dynamic range modes: HDR-PQ, HDR-HLG, SDR
8 frame rates: 23.976, 24, 25, 29.97, 30, 50, 59.94 and 60 fps



Thus, VQCSE package consists of 48 media files.
Each MP4 media file is produced by a lossless 444 10b HEVC encoder.

The major effort in capturing, delivering, and rendering of high-quality moving images, demands the guidance and commonly accepted rules.

The issues of tone mapping, color legalization, color banding and bit depth handling, are not yet fully resolved and often misunderstood.

The solution, is to establish easy-to-use rules and related tools, through the expanded derivatives of VideoQ Color Space Explorer Test Patterns suite.

The so-called 'three-point monitoring' approach provides for the correct detection of workflow parts responsible for the overall color distortions:



Insert test pattern at the source or any other test point within the workflow, e.g. encoder input
Check colors representation at the output of the encoder, transcoder or packager
Finally, check it again at the player/display screen output



Click the links below to see the examples of rendered RGB images color banding distorsions, revealed by VQCSE test for various player types and encoding formats: #1 , #2, #3 , #4.
Note that Y banding distorsions are hardly noticeable on Gray Ramps, i.e. 10 bit depth is preserved.